Hello?
Anybody out there??
Bueller? Anyone?....
I've been neglectful of my little blog for a while and I'm afraid I've lost you all. I have been working on a project, so I somewhat have an excuse. Its not finished yet but I just can't wait to show you all any more!
Almost 4 years ago I moved into a brand new home :) Very white. One of the modern, little cookie cutter, homes with wall cutouts, tan carpeting, and sod. I have slowly been working to add COLOR to it and make it mine. I'm not really a cookie cutter home girl...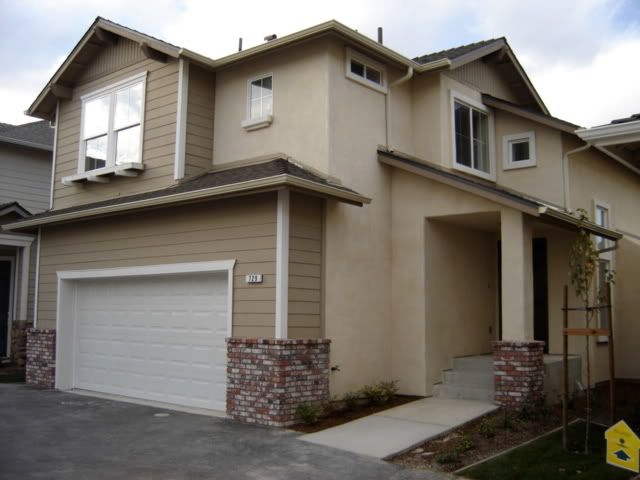 Hi casa Kamee!! its changed so much in 4 years!!
The main project I have been obsessing over, without resolution, is the area over my fireplace. The cutouts where the TV is supposed to go has always been an eyesore for me.
I've always wanted to cover it up but its the only place that has outlets and is wired for cable... what to do? This is what it looked like when I bought it.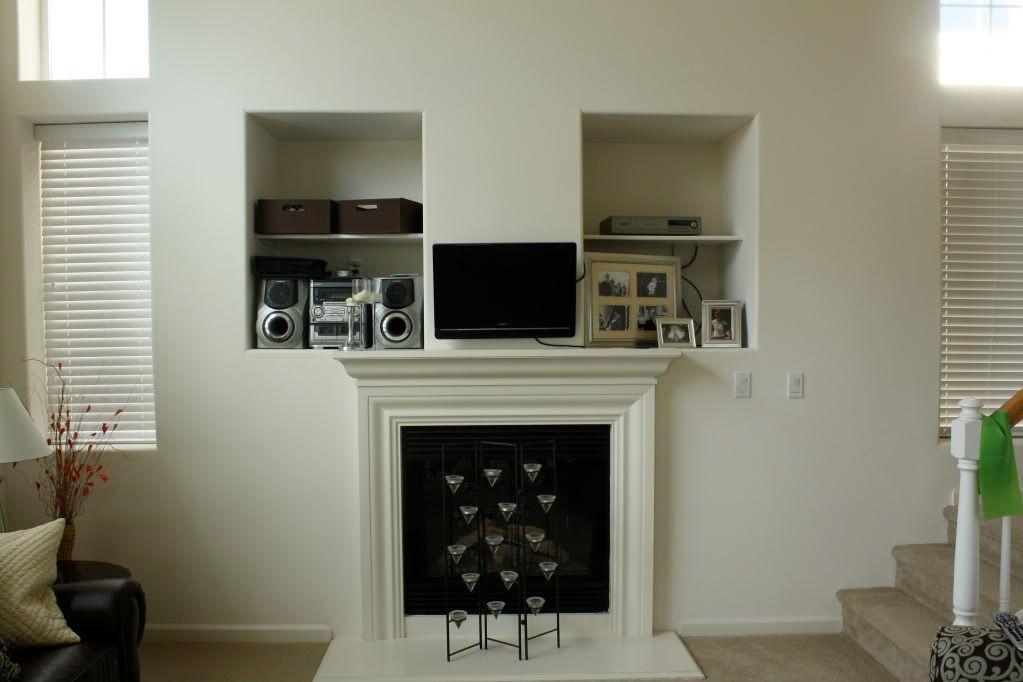 This was a week ago.. I got a new flat screen for my birthday so I wall mounted it and then I hated my cutouts even more!!!! But how do I cover them and not lose the function of them? Oh, did I mention that my house is concrete and there are no studs in the wall to screw in to? Yup.
So in all the productive hours that I have stared at that TV, and hated that wall, I kept coming back to a giant canvas to cover the cutouts. Do you know how expensive an 8 foot long and 5 foot high painting is? Yeah, you don't want to go there. Not to mention its not really a standard size ;) So I decided I would make one. But then, how do you still access the cutouts when you need to reset the DVR (I can't miss my Glee episodes!) My handy dandy Dad suggested I put hinged 'doors' on my canvas. Yes! Brilliant. So I set out. Want to see?
So here's what I started with;
left over lumber from my patio project
a painters drop cloth, from my many painting projects, that I cut to fit
and about 5,000 staples
I made the frame and fitted each end with a 28 inch 'door' so I could access the cutouts. Then I stretched the canvas. 2 hours later and very blistered hands, from tugging at the canvas, I had a blank work surface!! One that took up my entire living room!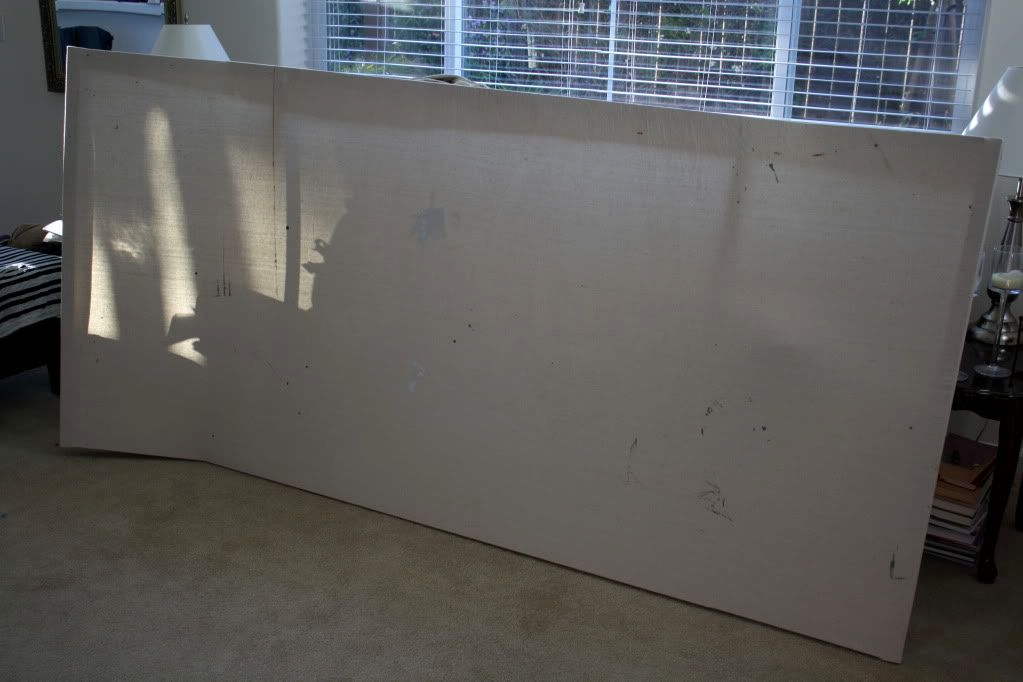 Sorry its kinda dark. It was getting late and I was losing my light.
Then I ordered buttons. Buttons, buttons, buttons!!!!
and.....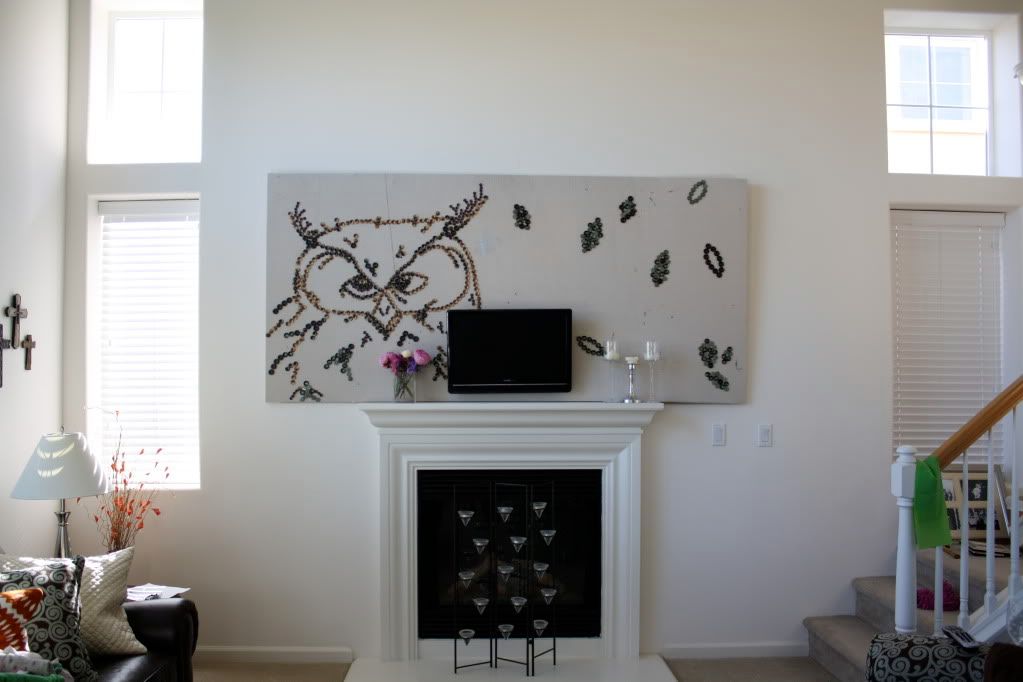 It still needs a wooden frame, to break up the WHITENESS!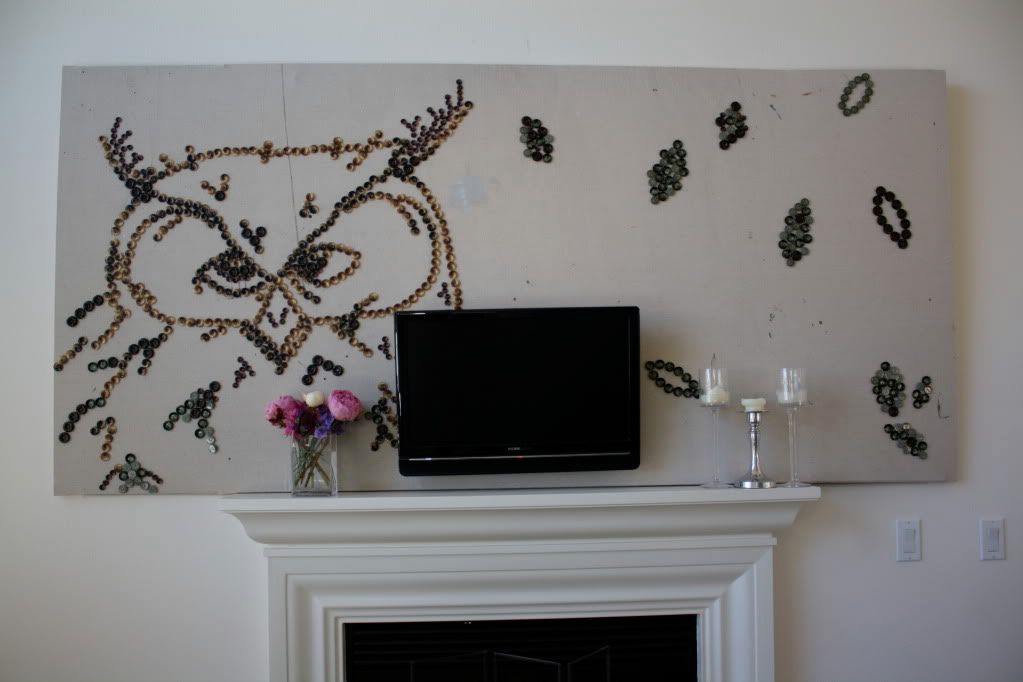 I like the character the old paint drips give the canvas.
I also like peonies and sweet peas. They make me smile.
Oh, and I'm on an owl kick. I think they bring wisdom and I'll take all the wisdom I can get these days!!
What do you think?
P.S. It was suggested to me, by a new found blog friend, that I should submit this to Metamorphosis Monday on Between Naps On The Porch. So I'll give it a try. The link is below (If I know how to follow directions ;) ) Check it out next Monday and see if it worked!